Woodys Free range
Fresh & Free Range Meat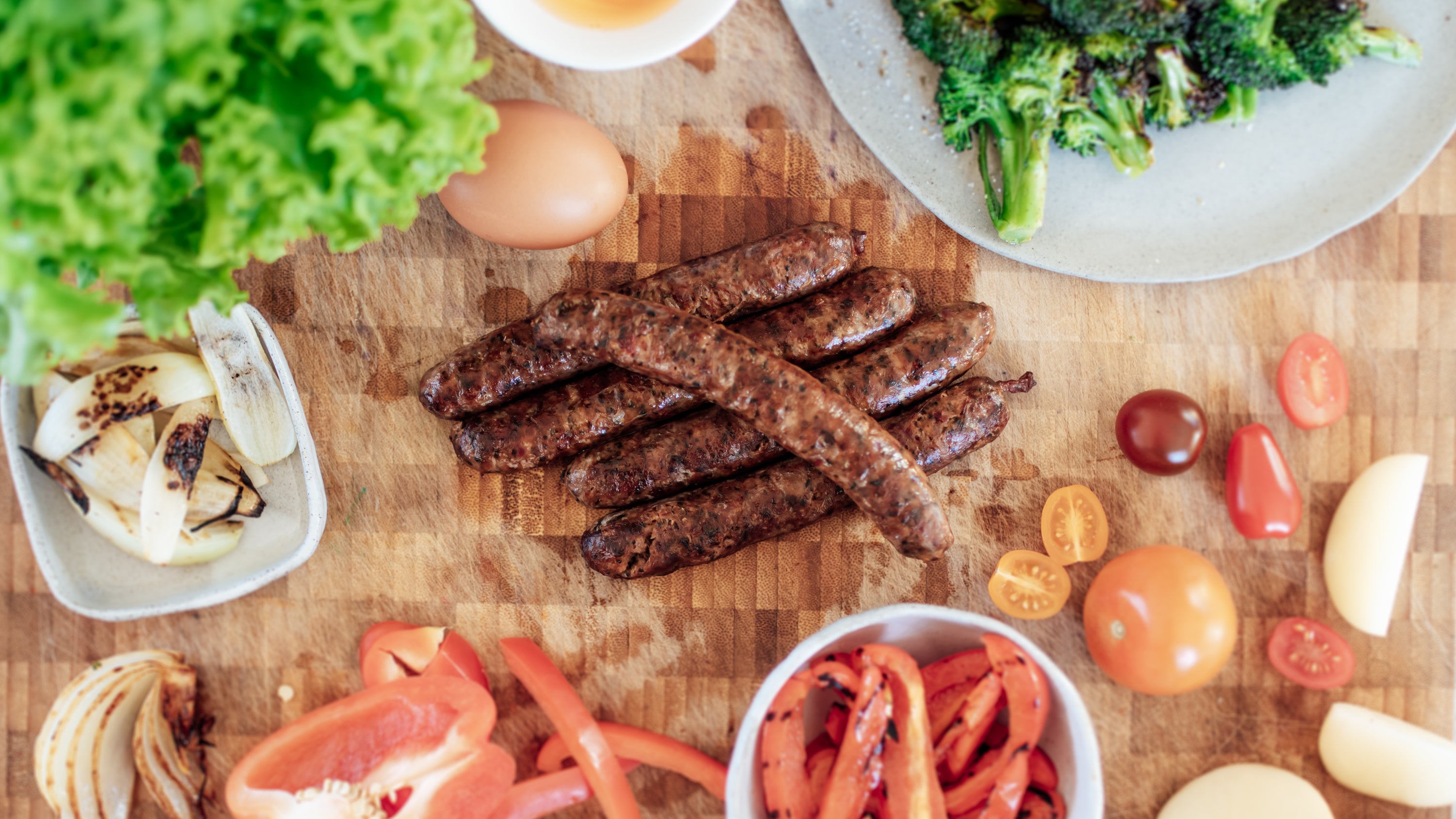 The Fresh Factor
Having an order cut-off time (12 pm Monday) and a set delivery day, it allows us to accurately forecast what is needed for the week and process accordingly. This ensures extreme freshness whilst minimizing waste and reliance on a freezer.
Everything Begins With An Idea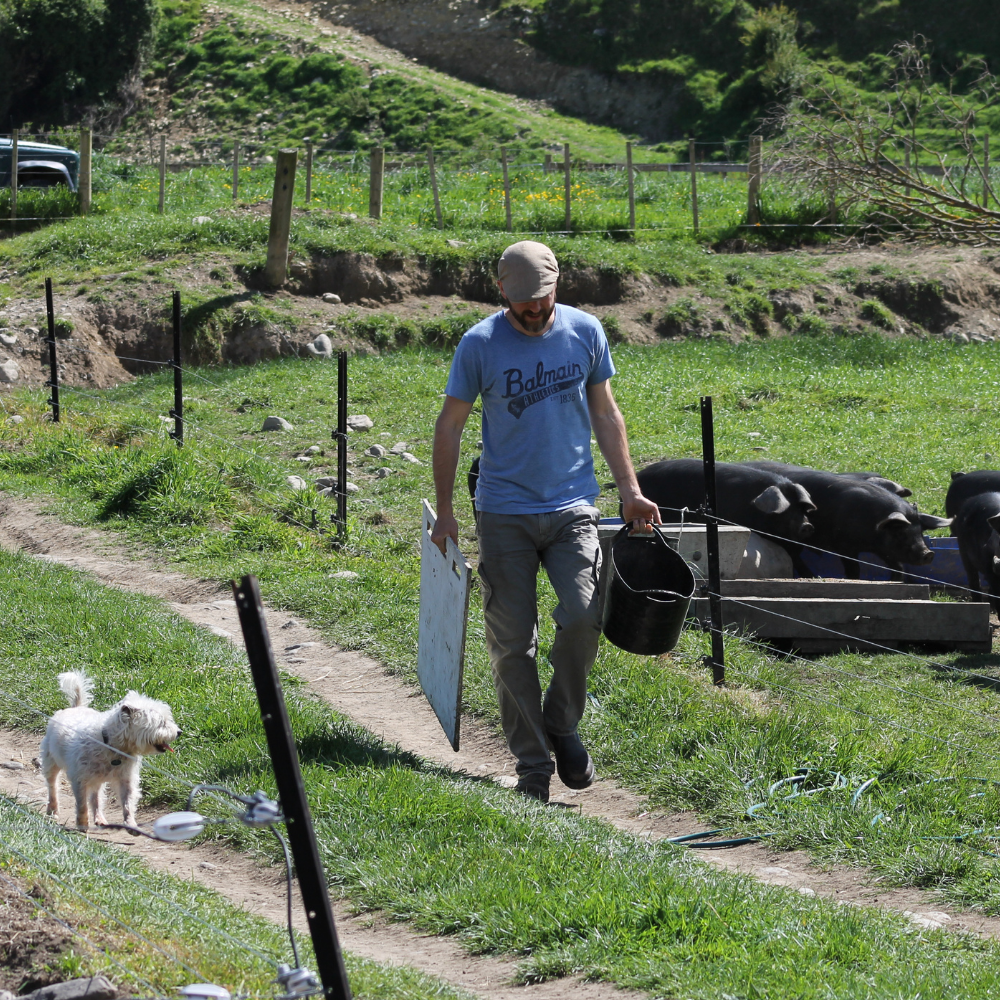 The Idea
Woody's Free Range Farm was born in 2013 by its founder Daniel Todd. Daniel originally hails from Peterborough in the UK, he moved to Australia in 2005 and then onto New Zealand in 2013. After 17 years working for a Consumer Electronics company, Daniel developed a curiosity for pig farming, and in particular the need to promote ethical free-range farming pigs. And so the journey began.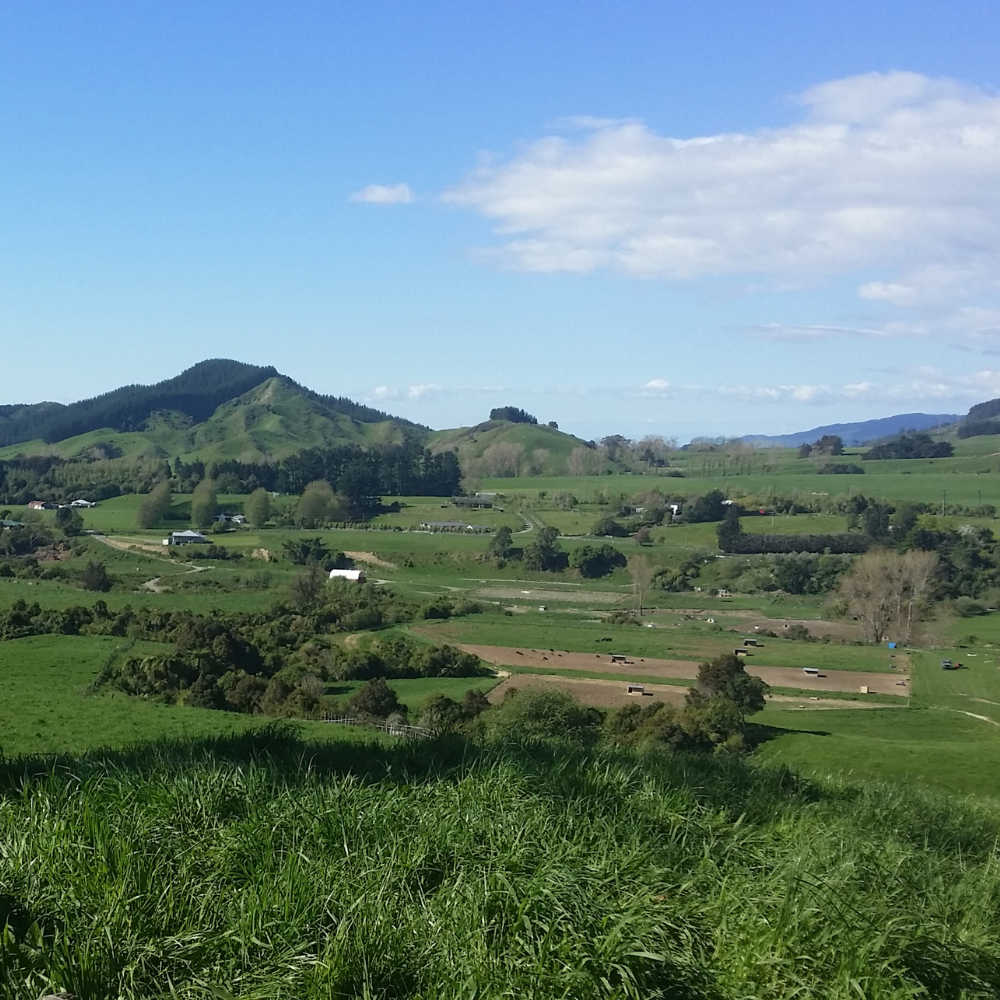 The Farm
Together with his wife Claire and dog Woody (the farm's namesake), neither of whom have any farming experience, they moved to an 80-acre farm in Manakau, just south of Levin, and began raising Large Black and Berkshire pigs.
The picturesque property is situated at the foothills of the Tararua ranges, against a backdrop of pine forest, with the Waikawa stream running through it.
The Butchery
By 2016, idyllic or not, the farm was not making any money and Woody's Farm was close to shutting its doors.
At the same time our old friends from the other side of the Tararua's, Longbush Pork, had secured investment to grow their farm. With their focus on farming and our focus on butchering, we join forces in supporting the ethical raising of pigs for true free-range pork.

In 2017 Woody's invested in a purpose-built butchery and factory in nearby Levin and Longbush are now providing the majority of pork.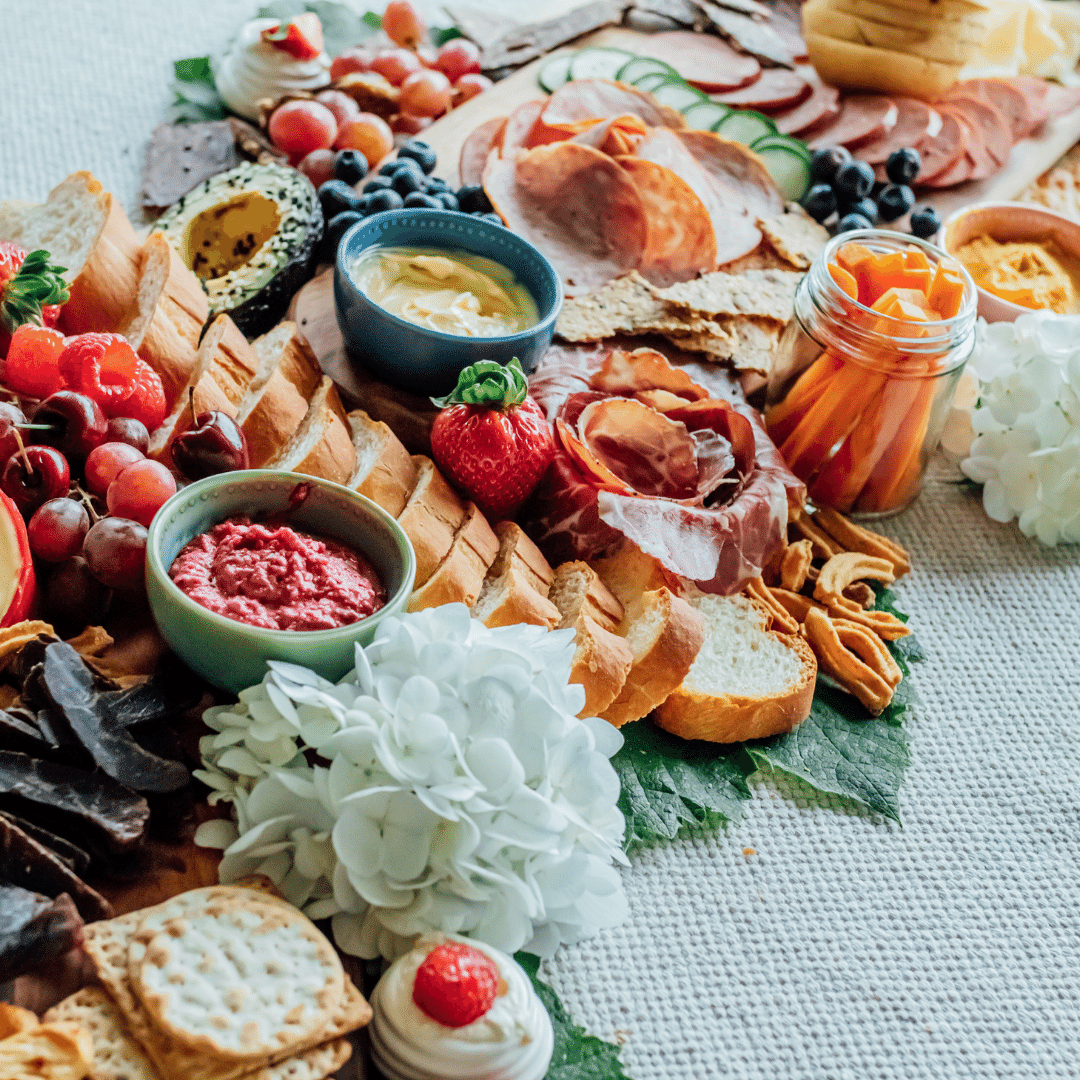 The Present
To date, Woody's continues to supply fresh and 100% free-range meat across the country. The demand for high-quality meat continues to stay strong in today's world of evermore processed goods. We can be spotted in many good supermarkets, restaurants and cafes. View our stockist list to find your local vendor or buy online for fresh overnight delivery every week.
The future holds some pretty exciting things for Woody's so to stay posted, subscribe to our newsletter.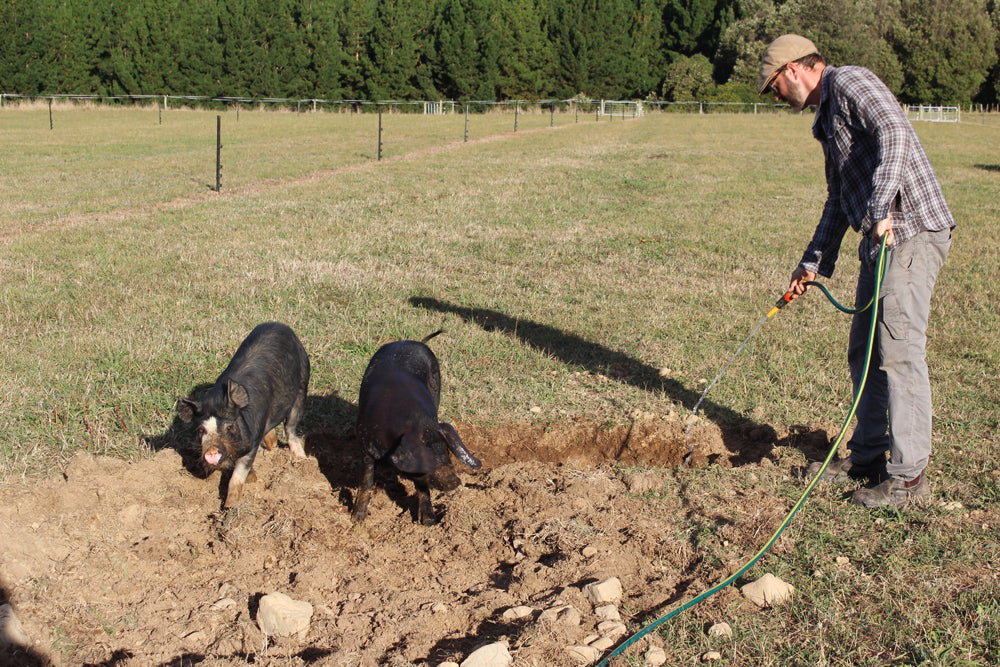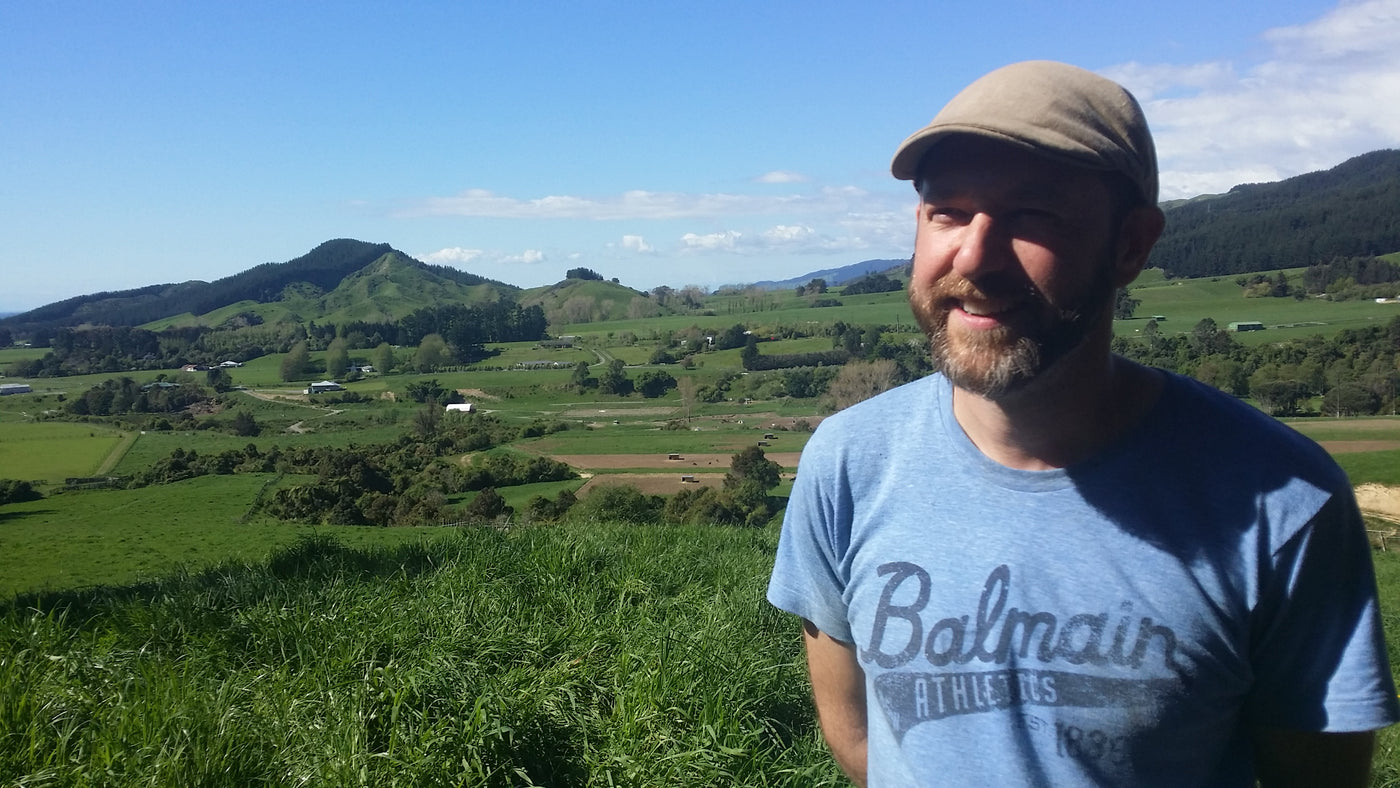 Sustainability
As well as being 100% free range, we try our best to be as sustainable as possible. We have implement sustainable solutions across our entire supply chain from the farming to packaging. We are committed to continuously improving our processes and offsetting carbon where possible.
Country Calendar

Woody's Free Range was featured on the iconic TV show Country Calendar. We discuss why we farmed the way we did and what we believe in. A lot has changed since 2015 although our mission has not. Click on the video to watch or the button below to see our range of 100% NZ Free Range products.


I use Woodys Free Range pork because the quality and flavour of the meat is unparalleled in New Zealand and I like the ethos behind how the animals are raised and prepared in the butchery.
We source all our Pork from Woodys because it's the best product around and is right in line with our values. Daniel and the team are amazing to work with. We use primarily Pork Shoulder and rolled mini Hams for Vietnamese rice bowls and Banh Mi in our restaurant and food truck, highly recommended!
Knowing exactly where our meat came from and how the animal was raised is paramount to our business, and Woody's delivers just that.
Before we opened our doors in Auckland we knew we only wanted to work with the highest welfare suppliers in NZ. Daniel and his team at Woody's fit the bill perfectly and we've been working with them since day 1. They produce some of the tastiest ethically and sustainably reared pork products around.
100% Quality over quantity. Woody's heritage pork simply just taste better. We are blessed to have this amazing tasty stuff 2 hours away from our production kitchen. You will never go back to the watery version of imported cage pork ever again!
Vinci's has a firm belief in using only free range meats. The quality at Woody's is amazing and Dan is always helpful with trying out new ideas and product.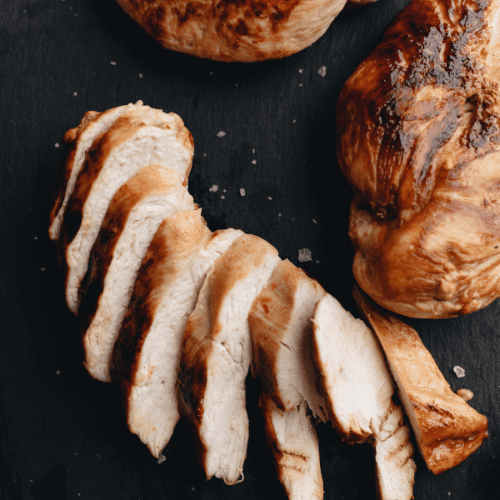 Our chicken comes from local 100% NZ Free Range chickens. Smoked and cured naturally in the same way our bacon is made.
Pickup currently unavailable at HOKIO SAND ROAD
HOKIO SAND ROAD
Pickup currently unavailable
142 Hokio Sand Road
MWT
Hokio Beach 5571
New Zealand
+6469279993